Women Employment
2.1. Percentage Distribution of S&T Manpower in Different Fields of Science
(Source: PCST SURVEY 2010-2011)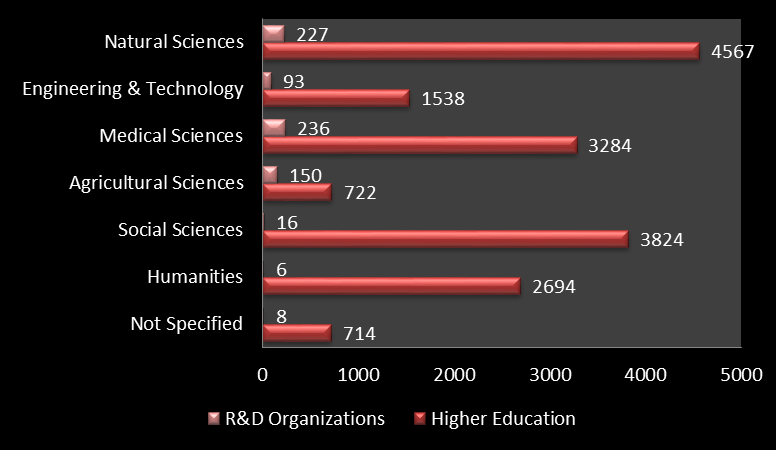 2.2. Percentage Distribution of S&T Manpower in Different Organization Types
(Source: PCST SURVEY 2010-2011)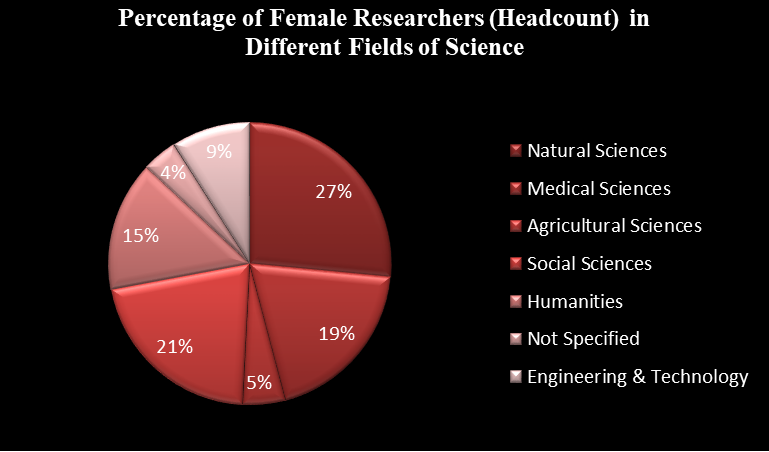 2.3. Percentage Distribution of S&T Manpower by Occupation
(Source: PCST survey 2010-11)
Grade

Manpower

Male

Female

Total

BPS - 22

232

49

281

BPS - 21

1528

233

1761

BPS - 20

1863

392

2255

BPS - 19

4646

1304

5950

BPS - 18

8586

3843

12429

BPS - 17

5230

2055

7285

BPS - 16

574

146

720

Above BPS - 11

2579

306

2885

BPS 8-11

3670

177

3847

BPS 5-7

2714

207

2921

Total Manpower

75363

16994

92357
2.4. Gender Wise Distribution of S&T Manpower by Grades (Head Count)
(Source: PCST survey 2010-11)
The distribution of formal employment in Pakistan is heavily biased in favor of men: approximately six times more men than women work in the formal economy. The statistics are obtained from the Annual Labour Force Surveys prepared by the Federal Bureau of Statistics (FBS) which surveys more than 20,000 households.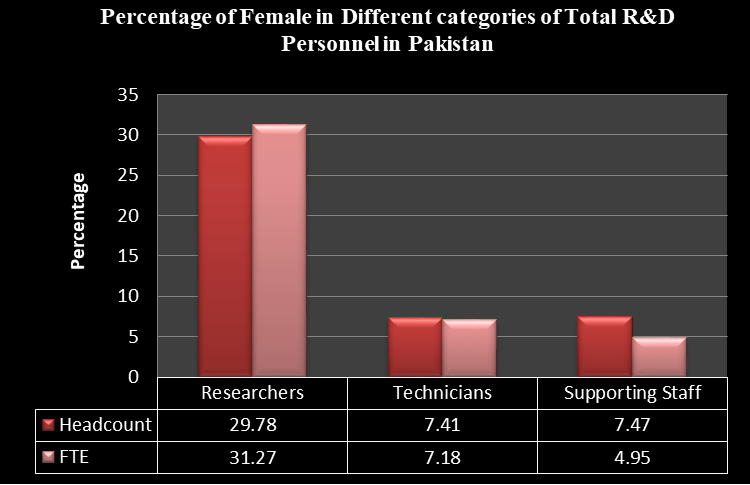 2.5. Sex-Disaggregate Distribution (Millions) Indicating Gaps in Employment
(Source: Labour Force Survey of Pakistan 2010-2011)
The statistics below represent both the crude and the improved estimates of female labour force participation, based upon earlier labour force surveys. Even the improved estimates, however, show women's labour force participation to be little more than half the crude male rate.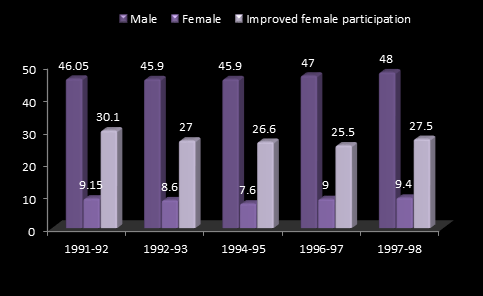 2.6. Inequalities in Labour Force Participation Rates
Source: Labour Force Survey of Pakistan
In terms of GNP, Pakistan ranks third in South Asia after Sri Lanka and the Maldives. But Pakistan ranks lowest in the South Asian region in terms of GDP per capita for women. 2.7 shows that the real GDP per capita — defined in terms of Purchasing Power Parity — for Pakistani women is the lowest in South Asia.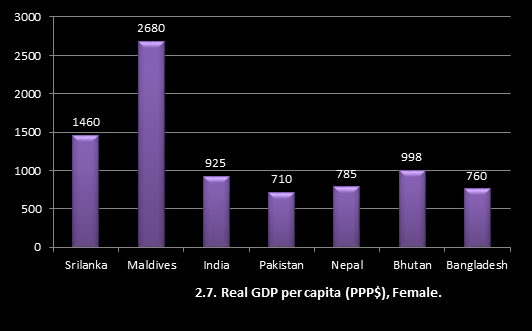 2.7.  Real GDP per capita (PPP$), Female
Source: Human Development Report 1999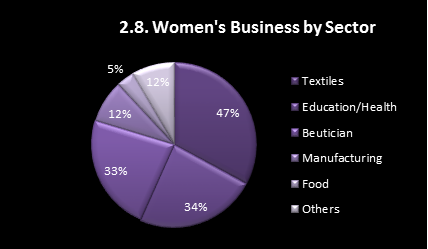 2.8. Pakistani Women's Business by Sector
Source: Labour Force Survey of Pakistan