According to UNESCO Science Report towards 2030, Sri lanka with 41% ranks highest in terms of women representation in Science followed by Pakistan with 36% and India with 15%.
<![if !vml]>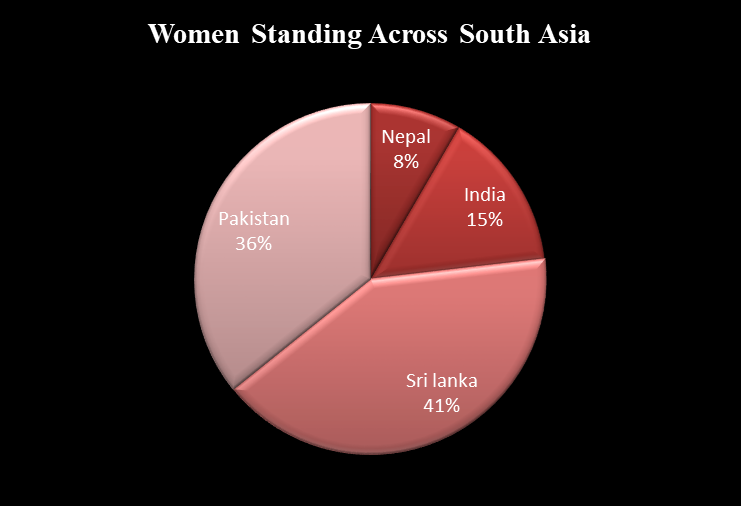 <![endif]>
Women Standing across South Asia
Source: UNESCO Science Report towards 2030, 2015)
According to the UNESCO Institute for Statistics Report, March 2017, the discipline-wise breakdown of female researchers in Pakistan suggests that highest percentage of female researchers are engaged in medical and health sciences with 48.31%, followed by humanities and arts with 45.5% and natural sciences with 42.7%.
<![if !vml]>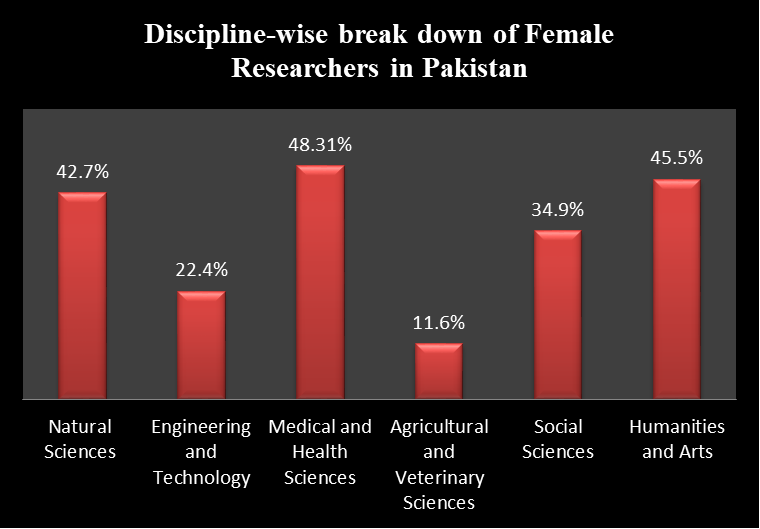 <![endif]>
Discipline-wise Breakdown of Female Researchers in Pakistan
 Source: UNESCO Institute for Statistics Report, March 2017
The highest number of female PhD scholars are enrolled in natural sciences followed by social sciences
<![if !vml]>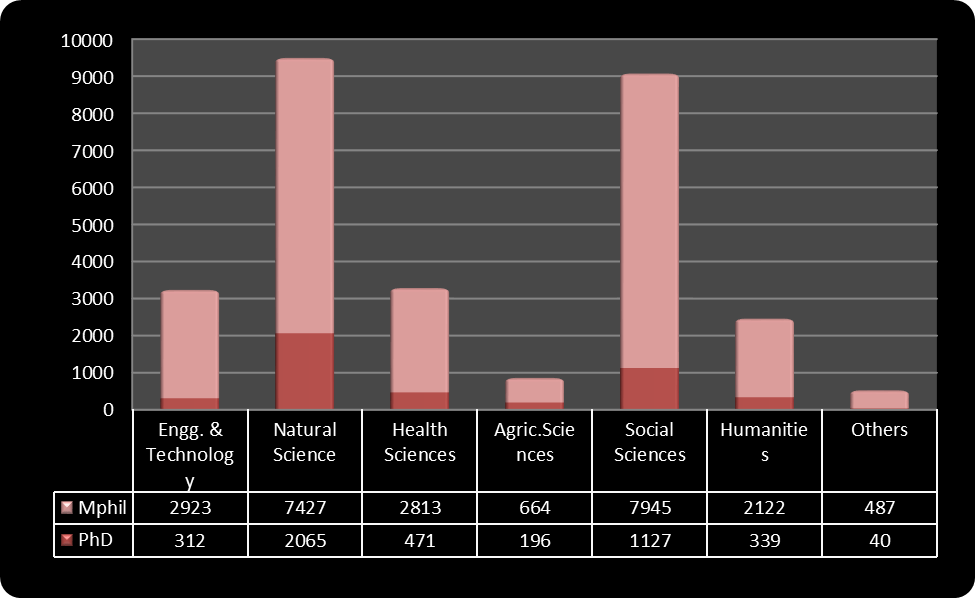 <![endif]>
Number of female PhD and MPhil students currently enrolled in Pakistani HEIs
The Figure below shows the number of female and male scientists awarded RPA by PCST from 2004-05 to 2017-18.  The highest number of females were awarded RPA in year 2012-13
<![if !vml]>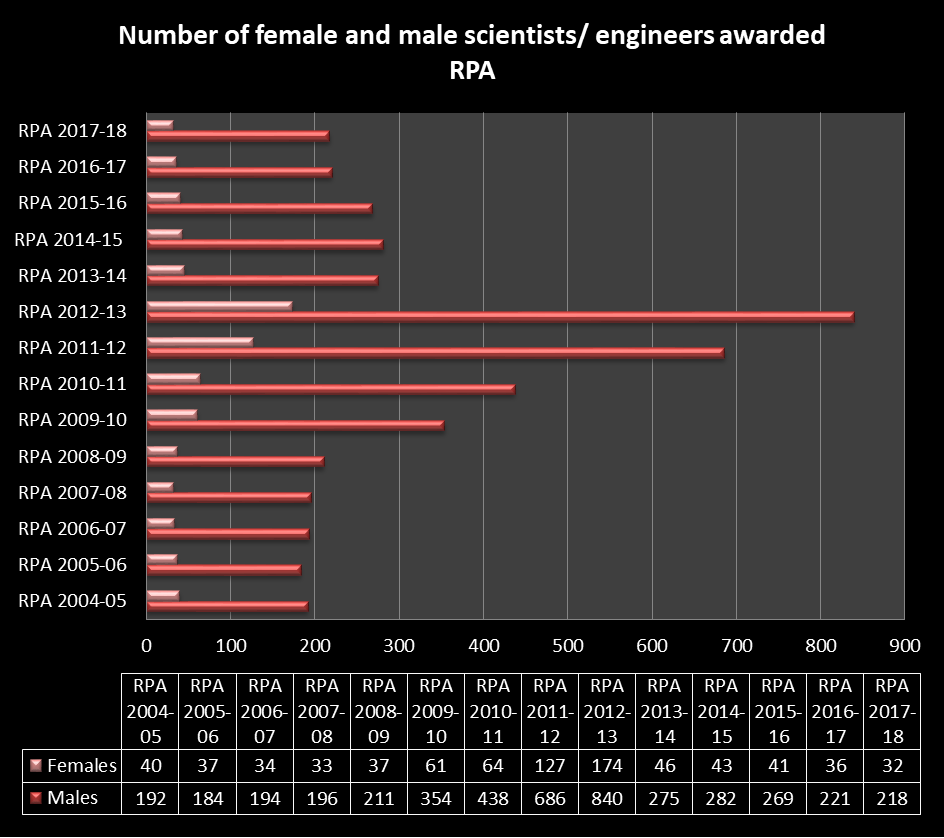 <![endif]>
Number of female and males scientists/ engineers, awarded RPA from 2004-05 to 2017-18 Source: Pakistan Council for Science and Technology
The Table below shows the discipline-wise award of RPA to female scientists/engineers from 2004-05 to 2017-18. According to the data from PCST it is evident that the highest number of female scientists awarded with RPA belong to Biological Sciences and Chemistry
| | | | | | | | | | | | | |
| --- | --- | --- | --- | --- | --- | --- | --- | --- | --- | --- | --- | --- |
| Year | Agri | Bio | Chem | Earth Sci | Eng | Math | Pharm | Phys | Comp | Stat | Health | Envi. Sci. |
| 2004-05 | 2 | 13 | 20 | 0 | 0 | 0 | 1 | 4 | 0 | 0 | 0 | 0 |
| 2005-06 | 0 | 12 | 21 | 0 | 0 | 0 | 1 | 2 | 0 | 0 | 1 | 0 |
| 2006-07 | 0 | 11 | 19 | 0 | 0 | 0 | 1 | 2 | 0 | 0 | 1 | 0 |
| 2007-08 | 0 | 10 | 18 | 0 | 0 | 0 | 2 | 3 | 0 | 0 | 0 | 0 |
| 2008-09 | 1 | 9 | 20 | 0 | 0 | 1 | 1 | 4 | 0 | 0 | 1 | 0 |
| 2009-10 | 3 | 18 | 28 | 0 | 1 | 1 | 4 | 7 | 0 | 0 | 0 | 0 |
| 2010-11 | 0 | 18 | 33 | 1 | 1 | 2 | 2 | 5 | 1 | 0 | 0 | 1 |
| 2011-12 | 3 | 44 | 59 | 0 | 0 | 6 | 3 | 10 | 0 | 0 | 0 | 2 |
| 2012-13 | 11 | 64 | 68 | 0 | 0 | 8 | 3 | 12 | 0 | 0 | 3 | 4 |
| 2013-14 | 0 | 22 | 15 | 0 | 0 | 3 | 0 | 3 | 0 | 0 | 2 | 1 |
| 2014-15 | 0 | 19 | 18 | 0 | 0 | 2 | 1 | 1 | 0 | 0 | 0 | 2 |
| 2015-16 | 0 | 16 | 13 | 0 | 0 | 5 | 2 | 3 | 0 | 0 | 0 | 2 |
| 2016-17 | 1 | 15 | 11 | 0 | 0 | 4 | 1 | 3 | 0 | 0 | 0 | 1 |
| 2017-18 | 0 | 17 | 6 | 0 | 1 | 1 | 1 | 2 | 0 | 0 | 2 | 2 |
Discipline-wise Award of RPA to Female Scientists/ Engineers from 2004-05 to 2017-18
Source: Pakistan Council for Science and Technology
The graph below shows the cumulative impact factor and citations of male and female scientists registered for RPA during 2014, 2015 and 2016
<![if !vml]>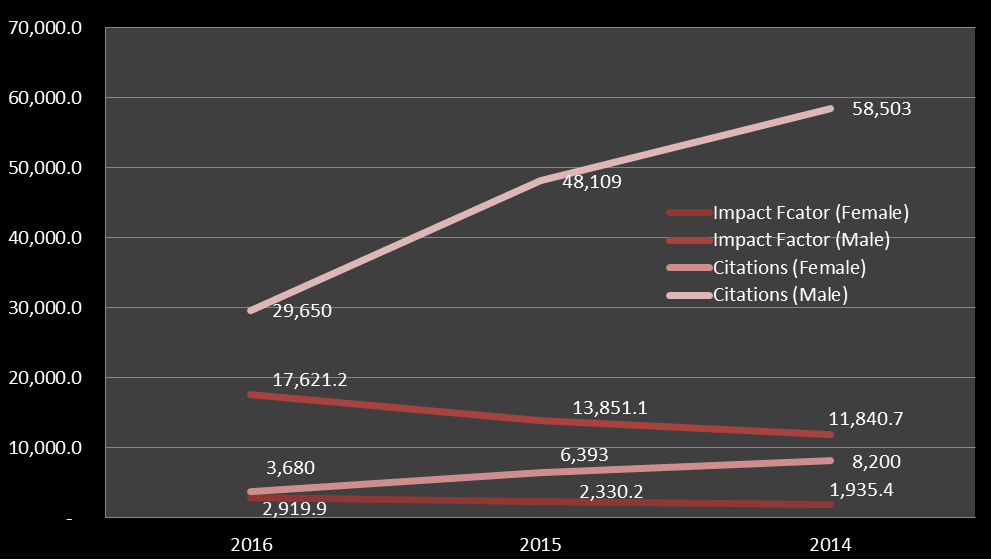 <![endif]>

Cumulative Impact Factor and Citations of scientists registered for RPA

A comparison of age-wise award of RPA to female scientists during the last 7 years is provided in Figure below

<![if !vml]>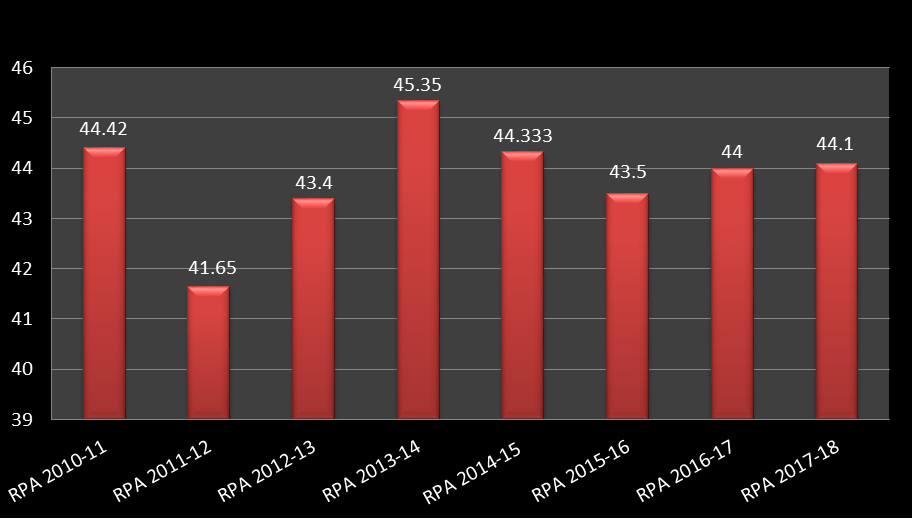 <![endif]>
Average age wise Award of RPA to female scientists/engineers in last 7 years
The Figure below provides a comparative overview of the patents granted to male and female researchers during 2006-2015. The highest number of patents granted to female researchers was during 2011
<![if !vml]>
<![endif]>
Patents granted to female researchers in comparison to men during the period 2006-2015